Recipes
Cranberry-Spice Cocktail Recipe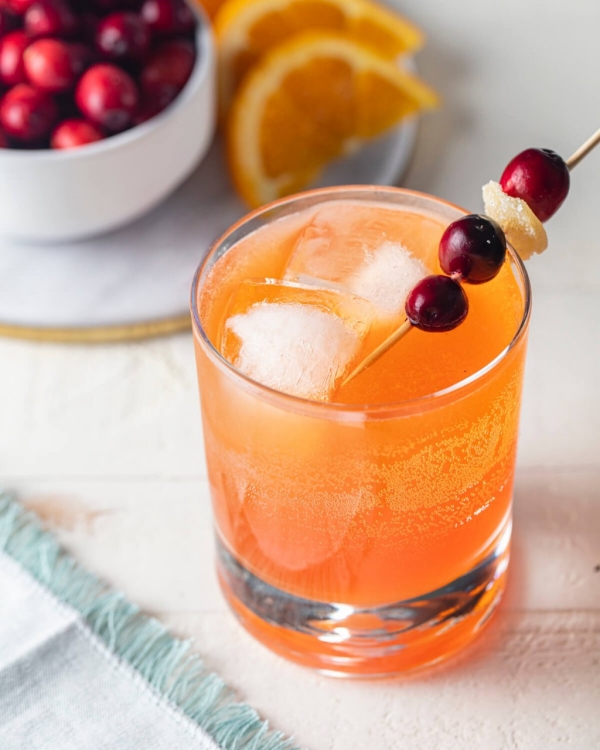 If you've been shopping around for a seasonal cocktail to carry you through the fall and into the winter celebrations, look no further — this convivial Aperol spritz will do nicely.

Aperol is a semi-dry apéritif from northern Italy that tastes like a combination of bitter grapefruit and sweet, melted Creamsicle. We've muddled it with light, floral Lillet Blanc, tart cranberries, fresh orange slices, and candied ginger. In a classic spritz, you'd top it with Champagne, but here we've used a dry hard cider, which gives the drink some subtle fall apple notes — and a beautiful red-orange ombré.
It's the perfect light, spicy sipper for any special meal, and we'd hang onto it for Thanksgiving. It'll pair beautifully with all sorts of appetizers, and you can even carry it with you into dinner if you like.
Servings: 1
Ingredients for the Cranberry Spice Cocktail
1 orange wedge
13 fresh cranberries, divided
2 1-inch pieces crystallized ginger, minced, plus 1 slice for garnish
2 oz Aperol
1 oz Lillet Blanc
4 dashes Angostura bitters
Ice
4 oz dry hard cider, such as Angry Orchard Crisp Apple
How to Make the Cranberry Spice Cocktail
In a cocktail shaker, muddle the orange wedge with 10 of the cranberries and the minced crystallized ginger.

Add the Aperol, Lillet Blanc, bitters, and ice. Shake well.

Double-strain the drink into an ice-filled rocks glass and top off with the hard cider.

Garnish with the 3 remaining cranberries and a slice of crystallized ginger skewered on a toothpick.
Recipe source: Food & Wine
Calculate nutrition information for this recipe.