Dinner Recipes
One-Pot Chicken & Creamy Mushroom Orzo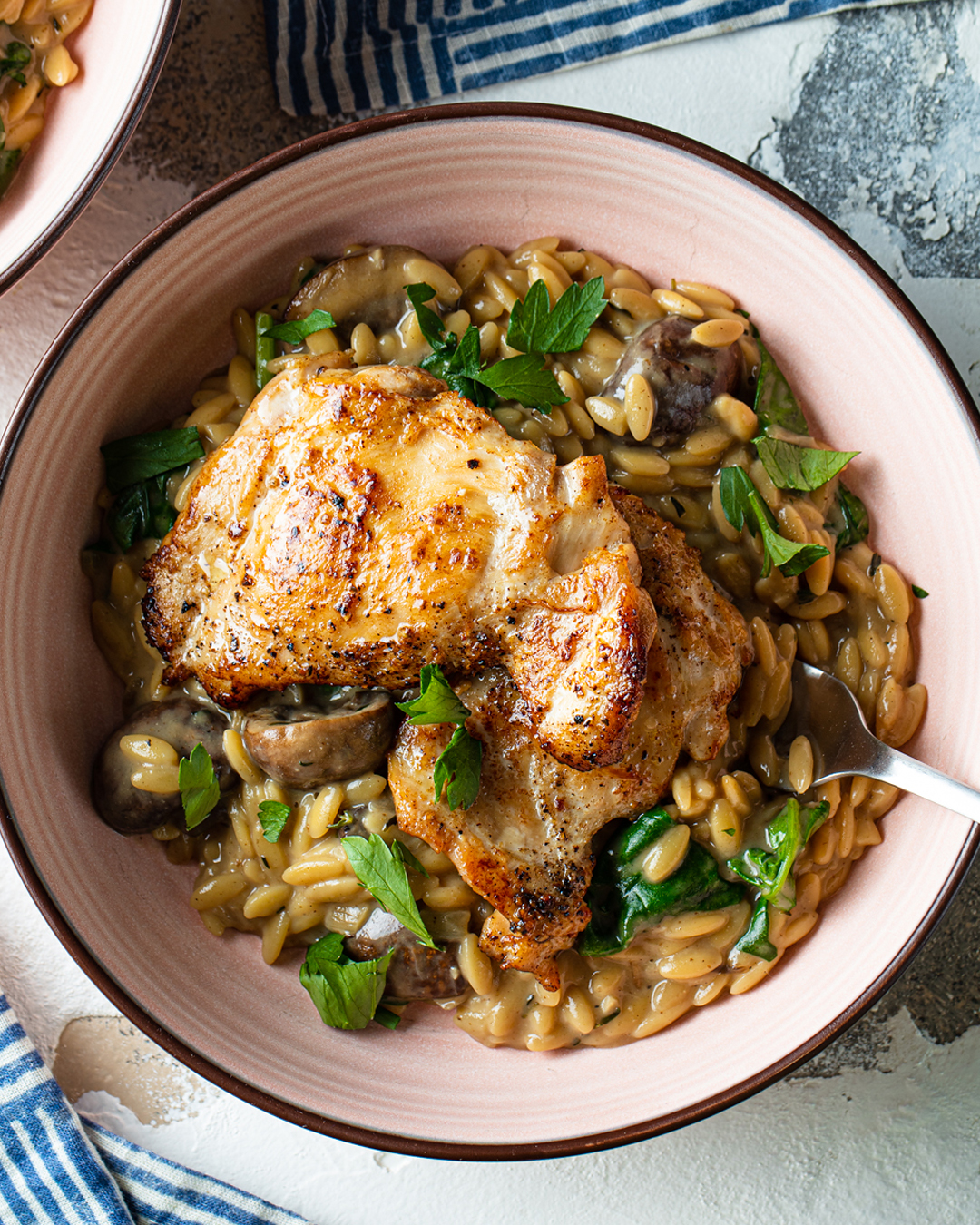 Isn't that chicken beautifully browned? All we do is season it with a bit of salt and pepper, and then sear it in a hot, buttered skillet. So simple! The outside gets delicately crispy — and the inside cooks up super tender.
We use that same skillet to whip up an accompanying pan sauce, so you get all those residual chicken juices as bonus flavoring. A bit more butter, some chicken stock, cremini mushroom, Dijon mustard, shallot, garlic, and thyme — it's "the business" when it comes to comfort food (as one of our test kitchen chefs says). Think: gravy, but lighter, smoother, herbier, and therefore, much more fitting for summer.
All that saucy goodness is the perfect vehicle for orzo. It soaks up all the flavors from the sauce and adds a soft, chewiness to the whole dish. And once the orzo is cooked through, we stir in handfuls of fresh spinach, Parmesan cheese, and heavy cream, so it winds up like a less heavy, but still very creamy, risotto. Don't be surprised if it's everyone's favorite part of the meal … there's something extra comforting about those little pasta oblongs.
Not only does this chicken dinner cook in one pan, it also holds up well for leftovers — by which we mean, you might be able to avoid a sinkful of dirty dishes for a couple of days. It's also great with a hearty serving of Netflix and a nice acidic wine, like bright rosé, fruity grenache, or crisp sauvignon blanc or pinot grigio … you've got plenty of pairing options with this dish. Want something green on the side? Go for our grilled halloumi salad; it's full of lemon, which'll be a lovely balance to the creamy orzo and mushrooms.

Servings: 4 to 6
Ingredients
1 ½ lb Gelson's boneless, skinless chicken thighs
¾ tsp kosher salt, plus more to taste
½ tsp freshly ground Gelson's black pepper, plus more to taste
2 Tbsp unsalted butter
8 oz cremini mushrooms, halved
2 large shallots, diced
3 garlic cloves, minced
4 Tbsp chopped Gelson's organic fresh thyme leaves
2 Tbsp all-purpose flour
3 cups chicken stock
1 ½ tsp Dijon mustard
1 cup uncooked orzo pasta
3 cups baby spinach
⅓ cup freshly grated Parmesan cheese
¼ cup heavy cream
2 Tbsp chopped parsley leaves
Directions
Season the chicken thighs with the kosher salt and black pepper.

In a large skillet over medium heat, melt the unsalted butter.

Working in batches, add the chicken to the skillet in a single layer and cook until golden brown and cooked through, 4 to 5 minutes per side, or until the internal temperature reaches 165° on an instant-read thermometer. Remove the chicken from the skillet and set aside.

Using the same skillet, add the cremini mushrooms and shallots, and cook until tender, stirring frequently, 3 to 5 minutes.

Stir in the garlic and thyme until fragrant, about 1 minute. Stir in the flour until lightly browned, about 1 minute more.

Whisk in the chicken stock and Dijon mustard, scraping any browned bits from the bottom of the skillet.

Stir in the orzo, season with kosher salt and black pepper, and bring to a boil.

Reduce the heat and simmer, stirring occasionally, until the orzo is cooked through, about 6 minutes.

Stir in the spinach, Parmesan cheese, and heavy cream until the spinach has wilted, about 3 minutes.

Return the chicken to the skillet. Garnish with parsley and serve immediately.
Recipe source: Damn Delicious
Calculate nutrition information for this recipe.