Dinner Recipes
Seafood Pozole
Seafood pozole is both a 30-minute meal-in-a-bowl and a gorgeous soup worthy of a midweek Día de los Muertos celebration. It's filled with hominy, avocado, and great big jumbo shrimp, a triumvirate of small culinary luxuries. And its vivid green broth is such a delight to the eyes.
All that color reflects its bright flavors: tangy, almost citrusy tomatillo, sweet, herbaceous cilantro, and slivers of very green, very fresh serrano pepper. There's a little clam juice in there, too, for depth. We love how all those savory flavors come together with that little bit of serrano warmth — it feels grounding, almost curative, in the way that a really good broth can be.
But what about the textures? This soup is full of them. Hominy comes with a wonderfully starchy texture, but once the kernels are infused with the broth, they're melt-in-your mouth soft. The shrimp also plump up in the soup, so they're juicy, tender, and sweetly briny. And then, of course, there are the crisp radishes and the creamy, creamy avocado.
If you're having folks over for Day of the Dead, seafood pozole will make a lovely starter to a platter of carne asada tacos. That said, we'd also serve it with a bag of chips, a bowl of Gelson's pico de gallo, and a pitcher of margaritas … and call it an excellent date night.
Our tip: don't forget, our seafood specialists are always happy to clean, peel, and devein those shrimp for you.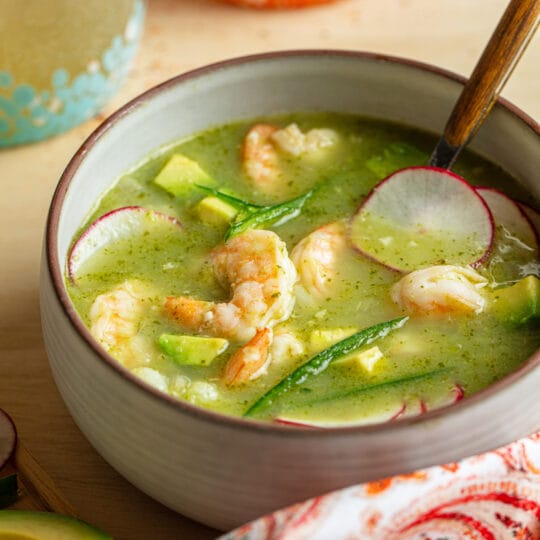 Dinner
Seafood Pozole
Serves: 4
Ingredients
2 Tbsp Gelson's 100% California extra virgin olive oil
2 serrano chiles, thinly sliced, divided
8 medium tomatillos, husks removed, rinsed
Freshly ground Gelson's black pepper, to taste
1 cup cilantro leaves and tender stems
15 oz can white hominy, rinsed and drained
1 lb jumbo shrimp, cleaned, deveined, and tails removed
1 Tbsp Tabasco Green Pepper Sauce
1 avocado, diced, for garnish
3 small radishes, trimmed, thinly sliced, for garnish
Directions
In a large pot, heat the olive oil over medium heat. Add the shallots, garlic, and half of the chiles. Cook, until soft and fragrant, stirring occasionally for 6 to 8 minutes.

In a blender, purée the tomatillos until smooth.

Add half the purée to the pot and cook, stirring often, until thickened, about 5 minutes. Season with salt and black pepper.

Meanwhile, add the cilantro to the blender and purée with the remaining tomatillos until smooth. Set aside.

Stir the hominy, clam juice, and 1 cup of water into the pot. Bring to a simmer and gently cook over medium-low heat for 5 minutes.

Add the shrimp and simmer until cooked through, about 3 minutes.

Remove the pot from the heat and stir in reserved tomatillo-cilantro purée and Tabasco. Season with salt and black pepper.

Divide the pozole between bowls and top with the avocado, radishes, and the remaining chiles. Serve hot with lime wedges.
Recipe source: Bon Appetit
Calculate nutrition information for this recipe.