Appetizer Recipes
Sweet Chile Kebabs with Shrimp & Pineapple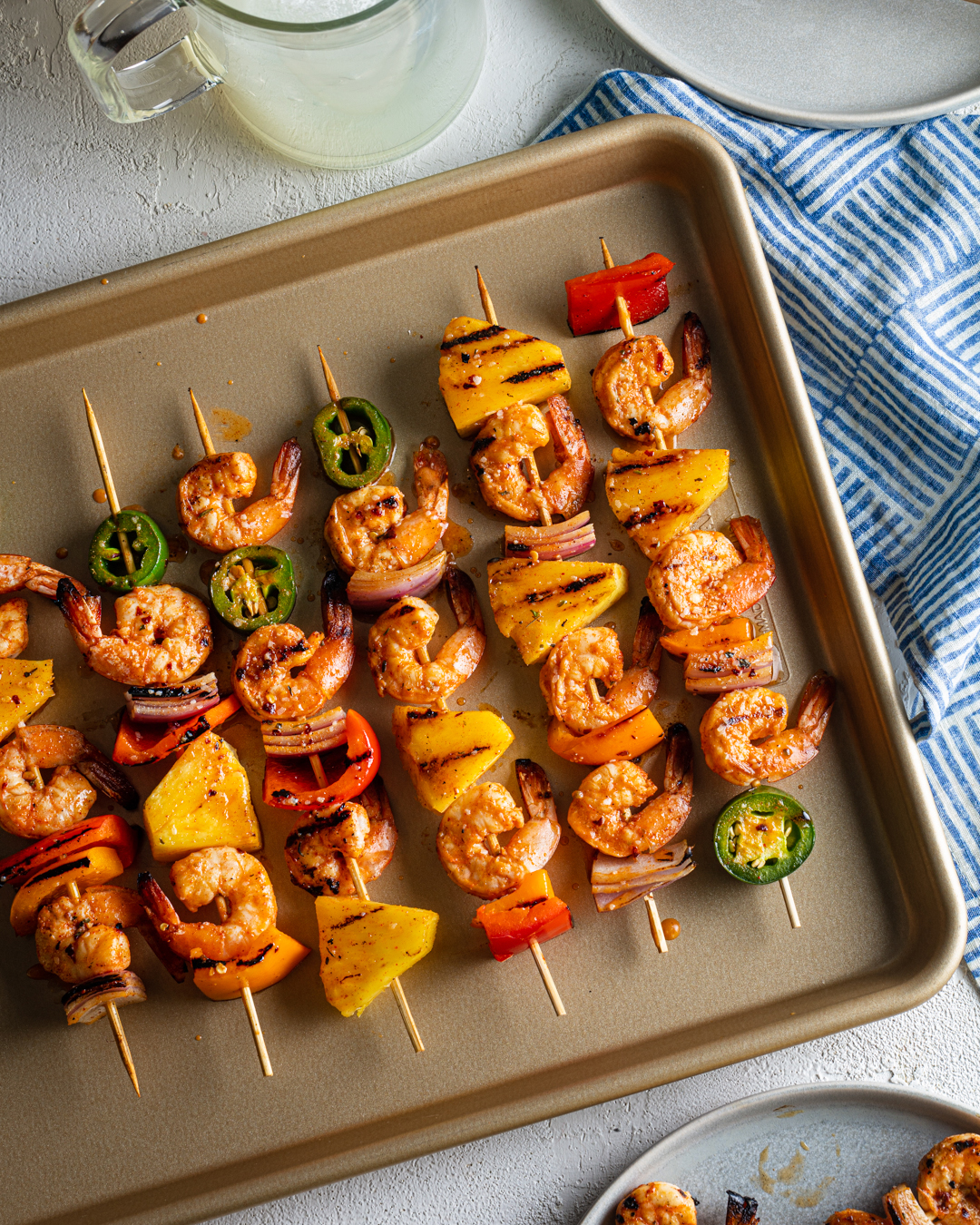 Here in SoCal, we never really put away our grills for the colder months of the year. But come summertime? That's when we get into a major grilling groove. And rather than do the same old burger song and dance, night after night, we like to spice up the menu (literally) with these vibrant, sweet chile kebabs with tender shrimp and juicy pineapple.
We start by soaking fresh jumbo shrimp in a marinade of olive oil, lime juice, and a plethora of spices — think smoky paprika, spicy cayenne, punchy garlic, and herby Italian seasoning. Then, we slide them onto skewers with pineapple chunks, various hues of bell peppers, jalapeño slices, and red onions. (Sometimes, we even enlist the kiddos to do the skewering, while we sit back with a glass of wine. Shh!)
On the grill, everything chars up beautifully — and we especially love how the sweet-tart pineapple gets smoky, caramelized bits from the flaming-hot grate. For the finishing touch, we brush the cooked kebabs with a spicy, herby butter. Paired with the marinade and the grassy jalapeño, it creates complex layers of heat, which are balanced perfectly by the bright freshness of the bell peppers, red onions, and pineapple.
We love these kebabs for a backyard barbecue: Each skewer is like a pre-portioned meal, and they're easy to eat while standing and chatting. Flimsy paper plates — no more! Plus, all those colors look so festive and cheery, perfect for the first get-togethers of summer, when everyone feels buzzed and bubbly from seeing familiar faces (and perhaps downing a mezcal lemonade). But we'd also make a tray of these skewers for a laid-back weeknight meal around the patio table, and then call it an early night.
Our tips: Don't want to fuss with peeling and deveining all that shrimp? Our fish mongers will do it for you! Also, be sure to slice the pineapple and veggies about 1x2" thick. That way, the skewers will lay flat on the grill and everything will cook evenly.

Yield: 10 skewers
Ingredients
For the marinated shrimp:
1 tsp Gelson's smoked paprika
1 tsp Gelson's chili powder
1 tsp Gelson's ground cumin
1 tsp Gelson's garlic powder
½ tsp Gelson's Italian seasoning
½ tsp Gelson's cayenne pepper
½ tsp Gelson's crushed red pepper
Juice of 1 lime
¼ cup extra virgin olive oil
1 lb jumbo shrimp (21/25), raw, peeled, and deveined
Kosher salt, to taste
For the finishing butter:
4 Tbsp unsalted butter, melted
½ tsp kosher salt
¼ tsp Gelson's smoked paprika
¼ tsp Gelson's crushed red pepper
⅛ tsp Gelson's Italian seasoning
For the kebabs:
2 ½ cups pineapple, cut into chunks
1 large red bell pepper, cut into 1x2" pieces
1 large orange bell pepper, cut into 1x2" pieces
4 jalapeño peppers, sliced into 1" pieces with seeds
½ large red onion, cut into 1" pieces
Special equipment: 10 wooden skewers
Directions
Soak the wooden skewers in cold water in a shallow pan.

To make the marinated shrimp: In a medium bowl, combine the smoked paprika, chili powder, cumin, garlic powder, Italian seasoning, cayenne pepper, crushed red pepper, lime juice, and extra virgin olive oil. Whisk until well combined.

Pat the shrimp dry and season with kosher salt. Place the shrimp in the marinade and gently stir to completely coat each shrimp. Set aside in the refrigerator for at least 30 minutes.

To make the finishing butter: In a small bowl, combine the melted unsalted butter, kosher salt, smoked paprika, crushed red pepper, and Italian seasoning. Set aside.

To make the kebabs: Skewer the marinated shrimp, pineapples, red and orange bell peppers, jalapeños, and red onions, alternating in an attractive pattern until all the ingredients are used. Place the skewers on a baking sheet. Note: Skewer the pepper chunks horizontally on the kabob so the short edges line up with the shrimp. This will both look pretty and ensure everything cooks evenly.

Heat a grill or grill pan to medium heat. Place the skewers on the grill and cook until the shrimp is pink, 2 to 3 minutes. Flip and continue cooking until the shrimp are cooked through, about 2 minutes more.

Transfer the skewers to a serving platter and immediately brush them with the finishing butter. Serve warm.
Recipe adapted from: Good Food Baddie
Calculate nutrition information for this recipe.