Appetizer Recipes
Vegan Herby Potato Salad
Fresh dill, peppery basil, delicate chives … this vegan potato salad is so bright and lively! And yet, it has all the creaminess of a classic potato salad thanks to blended cashews. (We don't even miss the mayo!) For warmth and depth, there's Dijon mustard and a bit of red pepper flakes, too. Add a dash of hot sauce, and you get even more spicy heat to round out all the fabulous flavors.
Texture can make or break a potato salad — here, it definitely makes it. All the potatoes are a little smooshed, a little firm, and so satisfyingly chunky. A tip from the test kitchen: make sure all your taters are about the same size for guaranteed textural splendiferousness!
This potato salad may be vegan, but we have to admit, it tastes amazing alongside a grilled rib eye with herb butter. Its bright, herbaceous flavor is a lovely juxtaposition to the smoky, savory steak — and no surprise, a perfect complement to the herb butter. Want a purely plant-based plate? Vegan herby potato salad is also great with cabbage steaks, a grilled eggplant and pesto sandwich, and any sort of meat-free burger (but especially this walnut one).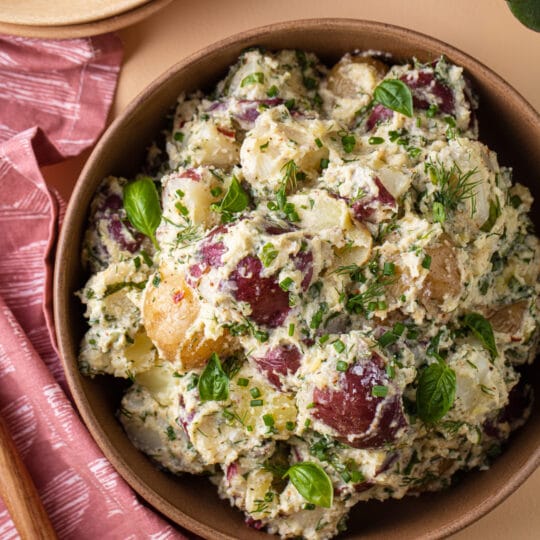 Appetizer
Vegan Herby Potato Salad
Serves: 6
Ingredients
36 oz Melissa's Peewee Medley Potatoes
1 Tbsp country Dijon mustard
⅓ cup extra virgin olive oil
Freshly ground Gelson's black pepper, to taste
Gelson's crushed red pepper flakes
1 cup lightly packed Gelson's organic fresh basil, chopped
¼ cup Gelson's organic fresh dill, chopped
2 Gelson's organic fresh chives, chopped
Directions
In a small bowl, soak the cashews in hot water for 30 minutes. Drain them, and set aside.

Place the potatoes, garlic, and salt in a large pot, and fill with water to cover the potatoes by 2". Bring to a boil over high heat, reduce the heat to medium, and simmer for 10 to 15 minutes, or until the potatoes are just fork-tender.

Drain all the water from the potatoes. Remove the garlic cloves and set aside. Cover the pot with a lid and let the potatoes sit and steam for another 20 minutes.

In the bowl of a food processor, combine the drained cashews, cooked garlic, mustard, and olive oil. Process until smooth and creamy, about 30 seconds, adding water if needed to make the sauce smoother.

Cut the potatoes in half or into 2" pieces. In a large bowl, combine the potatoes, cashew sauce, and lemon juice, and stir to combine. Season with flaky salt, black pepper, and a pinch of red pepper flakes. Add basil, dill, and chives, and toss to combine.

Serve warm or cover and place in the refrigerator for 2 hours to serve cold. Store for up to 5 days in an airtight container in the refrigerator.
Recipe adapted from Half Baked Harvest

Calculate nutrition information for this recipe.