Announcements
/

/

Home cooks guide to honey
Home Cook's Guide to Honey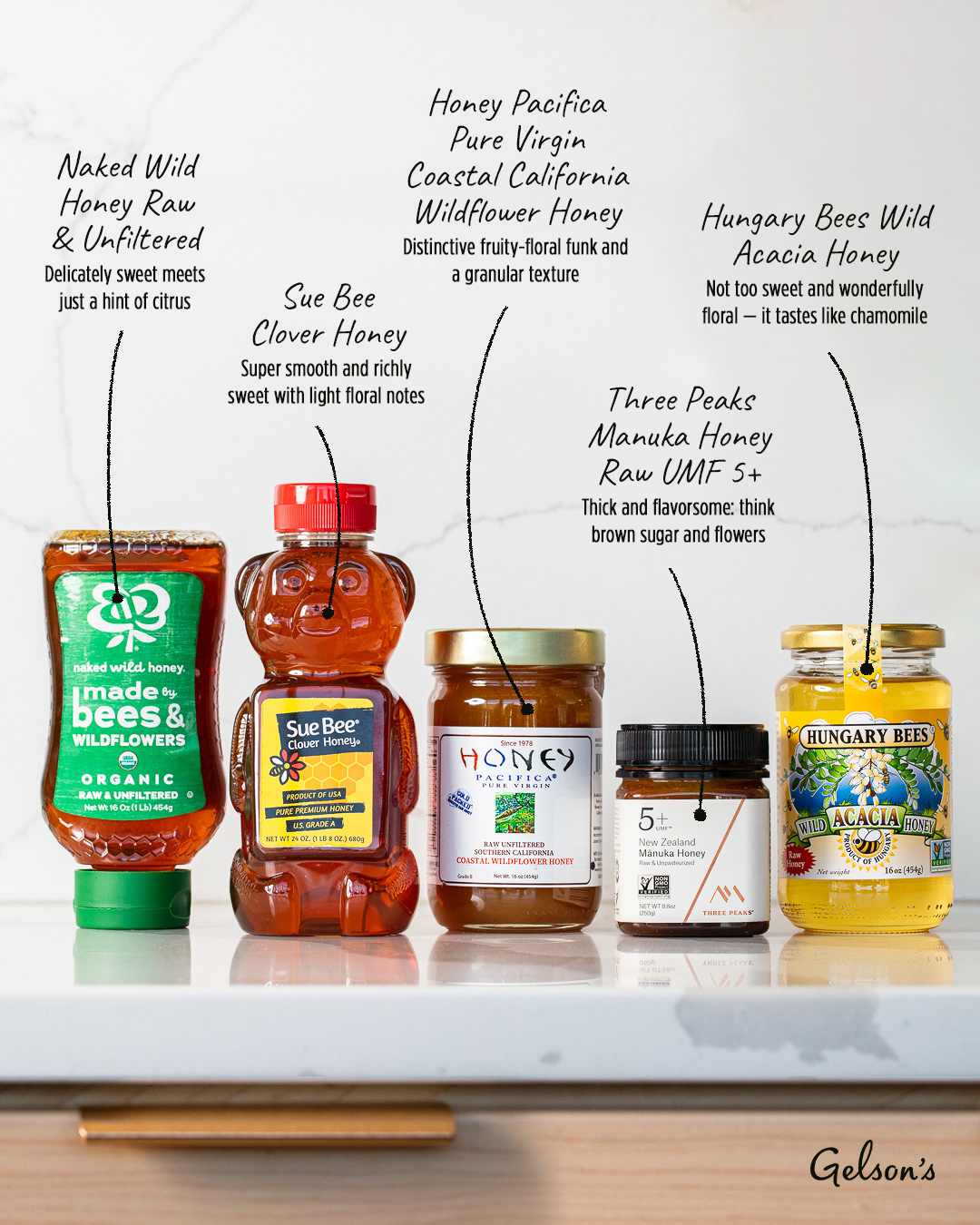 Honey is one of the foods we can get all year round, thankfully, so it's easy to forget that it's actually strongly influenced by seasons, geography, and weather. It's all about the bees and the flowers, after all.
We are superfans of those bees, but in putting together this guide, we were struck by the beekeepers who spend their days and nights moving the apiaries — literally chasing the seasonal blooms across geographies — in order to bring us top-notch honey with a particular flavor profile.
In this guide, you find a range of flavors and textures, from funky and granular to richly sweet and super smooth. Of course, this is just a sampling of the honey you'll find in our stores, so be sure to come in and explore the aisle!

Naked Wild Honey Raw & Unfiltered
Naked Wild Honey is made by the folks at Barkman Honey. Esra Barkman developed a passion for bees way back in the 1920s and hopped a train from Kansas to Oregon, where he honed the beekeeping craft working in the bee yards. But it wasn't until World War II, when sugar was rationed, that he started selling honey. All these years later, honey is a family business — and they've got bees foraging all over the country and beyond.
In fact, Naked Wild Honey is made by bees foraging wildflowers in Brazil. The honey that comes from the northeast region is lighter-colored and delicately flavored, while the honey from the tropical southern region is darker with a noticeably richer flavor.
The bottle we opened in the test kitchen was light and sweet with the barest hint of citrus blossoms. It would be a great day-to-day honey, but we'd also use it in recipes where honey is just one of many flavors, like marinades and sauces.
Sue Bee Clover Honey
Did you know that Sue Bee honey is made by a co-op of beekeeper families that stretches across the United States? It's true: The Sioux Honey Association Co-op launched more than 100 years ago with just five families — today there are 200, many of them are fourth generation, and they're located all over the country. Sioux Honey has a fun interactive map with beekeeper profiles and locations. Check it out: there are beekeepers right here in SoCal.
The honey we're featuring is Sue Bee clover honey. It's super smooth with a lightly floral flavor that's richly sweet but not strong. If you like a bit of honey in your tea or coffee, use this one — it will enhance the flavor of your breakfast teas without overwhelming them. We also love Sue Bee clover honey for baking: its delicate floral notes would be lovely in our honey apple cake and fig, olive oil, and sea salt challah!
Honey Pacifica Pure Virgin Coastal California Wildflower Honey
Honey Pacifica is a local hero. It started when young Frank Poto brought home a bunch of bees — his high-school science project. As often happens with such things, his dad started tending the bees after work, earning the nickname "the midnight beekeeper." Eventually, a little cluster of bee boxes became bottles of honey handed out to friends and family, then a farmers market venture, and now a family business.
Honey Pacifica has apiaries throughout SoCal, but this honey is made by bees that forage the various wildflowers that grow along our coastline. Wildflower blooms produce an amber honey with a distinctive fruity-floral flavor and a granular texture. It's funky in a good way and a little less sweet than some of the honeys here.
This is the honey we want to put on our toast, where that fun texture can shine. It's also a wonderful companion for firm, nutty cheeses, like manchego, and savory potted meats — put a little jar of it on your charcuterie board and people will swoon with delight.
Three Peaks Manuka Honey Raw UMF 5+
Three Peaks New Zealand manuka honey is made by bees that forage only the blossoms of the manuka trees — which are native to the islands. The honey maker has apiaries across New Zealand's North Island, where the manuka trees bloom for a fleeting 4 to 6 weeks at different times of the year, depending on the region.
So what is that "UMF 5+" about? It stands for Unique Manuka Factor, a New Zealand honey certification that ensures quality. According to the UMF association, Manuka honey has 2,000 components that contribute to its complex flavor and texture — and the higher the rating the more potent and nutritious the honey.
Three Peaks Manuka Honey Raw UMF 5+ has a deep mahogany color and a thick texture, and the flavor is at once super floral and full of caramelly brown sugar notes. This honey is particularly marvelous in cocktails, where it adds the kind of complexity that comes with a simple syrup that's been steeped in aromatic spices. Think bourbon punches, hot toddies, and of course, bee's knees.
Hungary Bees Wild Acacia Honey

SoCal's Ibolya Green started Hungary Bees Wild Acacia Honey because she missed the honey of her homeland. But, you ask, aren't there acacia trees here? Yes, we all know their sunny yellow blooms. But in Hungary there are pristine acacia forests, where bees can forage only their white blooms, creating a rare and especially delicious honey.
Wild acacia honey is pale yellow in color, lightly sweet, and wonderfully floral — it tastes like chamomile flowers. This is a honey that's fun to cook with because it is so flavorful, but it won't mask the other ingredients you're working with or over-sweeten recipes. We like it in fruity vinaigrettes, like the one we use in our roasted beet and pistachio salad, and gin cocktails.