Announcements
/

/

A home cooks guide to herbs
A Home Cook's Guide to Herbs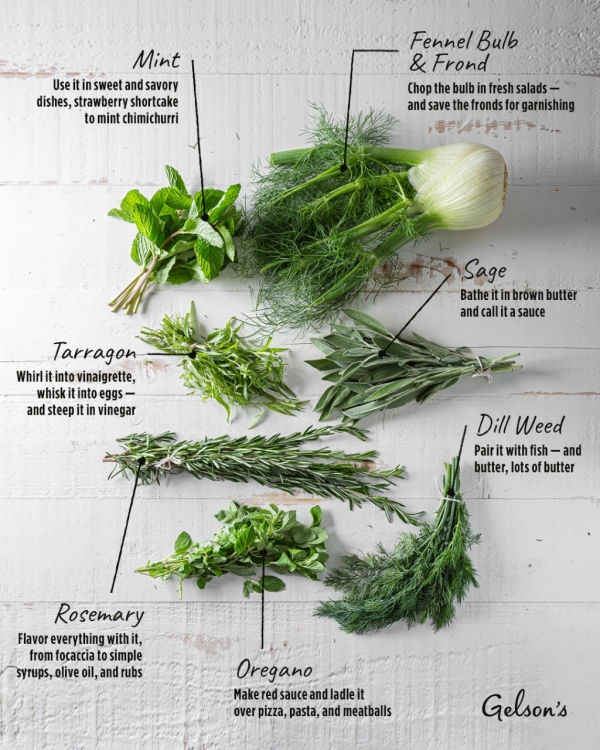 There are so many reasons to love fresh herbs: They always look so hopeful and pretty in their rustic twist-tie bundles. They're deeply aromatic, and they make the kitchen (and your hands) smell wonderful. And, most importantly, they're one of the easiest ways to add flavor to food. Yet, for all that goodness, they also present the conscientious home cook with a conundrum — if your recipe calls for one slim sprig of rosemary, what happens to the rest of that sweet little bouquet?
It doesn't have to molder in the bottom of your fridge! Here are a few tips to make your herbs last longer — and a bunch of ideas and recipes to use them up.
The key is to wash your herbs the minute you get them home and make sure they're properly stored. They'll last longer, and like all produce, most of us are more inclined to throw a handful of herbs in a salad if they're already clean and ready to go. Here's how we do it:
Trim the ends of your herbs, rinse them gently, and dry them in a salad spinner.

Store the heartier herbs, like rosemary, sage, and thyme in an open plastic bag in the refrigerator.

The more delicate herbs — like basil, parsley, dill, and mint — want a little moisture, so swaddle them up in a slightly damp paper towel, and tuck them into an open plastic bag in the refrigerator.
Of course, it also helps to have a loose familiarity with their individual flavors and where they shine, and that's where this guide comes in handy. Remember, you don't need a recipe: You can turn your herbs into vinaigrettes, pestos, simple syrups, bread doughs, salads, and compound butters at will. Experiment, experiment, experiment!
Dill Weed
Every herb has its standout moments, of course, but dill fronds are uncommonly pretty. They're the color of new grass, delicate and feathery by the sprig — and brilliant green poofs by the bouquet. They have a wonderful, anisette aroma, but their flavor is lemony, slightly sweet, and full of fresh cut grass.
Dill is one of those herbs you don't have to cook; you can just pick the fronds off the sprig and drop them in food. It's a classic pairing with fish, and we've recently used it to flavor a Dijon-caper sauce for pan-seared salmon and a charred lemon and butter sauce for branzino. It also takes to creamy stuff like a duck to water: think tzatziki sauce for your chicken shawarma. And of course, it makes a terrific garnish — it looks startlingly pretty against our harissa-roasted carrots.
Tarragon
Tarragon's culinary claim to fame is that it's part of the French supergroup fines herbes — tarragon, parsley, chervil, and chives — which is used in delicate sauces for fish and fowl. (And steak frites, hello béarnaise). Its long, narrow leaves have a mild licorice flavor with a peppery eucalyptus finish.
It tastes wonderful whirled into salad dressing, and we especially like to pair it with Dijon, as in a warm bacon vinaigrette for steak salad or a punchy Champagne vinaigrette for crispy salmon. Given its French leanings, it's probably not surprising to hear that it's wonderful in eggs: try an aromatic herbed frittata with tarragon, parsley, dill, chives, crème fraîche, Gruyère, and Parm. Tarragon is also the one we'll steep in a bottle of Champagne or white wine vinegar — so we can add its lilting green notes to everything.
Mint
It's not a wonder so many of us grow mint in our gardens and patio pots — it's so highly aromatic that you have hardly to brush against it to be surrounded in a glorious waft of fresh, clean mint. It's also highly versatile: its sweet, cool flavor works in desserts and savory dishes alike.
Mint is delightful muddled up in a cocktail, like the classic mojito or — on the floppy hat side of things — our rather coconutty pineapple mint smash. It's a fantastic garnish: Sprinkle a chiffonade of mint ribbons over a little crostini stack of cranberries and marmalade. The whole leaves can be elegant on everything from a simple heirloom tomato salad to a bright pink beet hummus. It's brilliant in food too, of course, and we love it swirled through everything from macerated strawberries (angel food cake!) to a flavorsome chimichurri for grilled lamb chops.
Oregano
Oregano is one of those things that all of us eat and none of us can describe. In the test kitchen we came up with a veritable ragbag of descriptions ranging from camphor and hay to minty and peppery. Our favorite is the agreeably vague "savory," which actually works well since it is the heart of so many savory dishes we love.
For example, it's one of the core flavors in the basic tomato sauces that we ladle over pizza, pasta, and meatballs — and chimichurri, the world's best condiment. We love oregano on a rustic roasted chicken too, and it shows up in both our one-pot roasted chicken & carrots and our one-pan roasted chicken, sausage, and citrus. If you're a vegetarian, try it with squash: it's especially splendid in butternut ravioli.
Sage
If burning sage chases away the bad spirits, the smell of its fuzzy leaves crisping up in a bath of nutty brown butter will bring the good ones — its sweet, piney aroma is well-nigh irresistible. It's as flavorful as it is fragrant. (Read: Sage is assertive. A little bit goes a long way.)
Speaking of sage-infused brown butter, we've recently swirled it through brown butter squash and bucatini pasta, and it's pretty great drizzled over steaks and pork chops. Sage is also a flavor we associate with Thanksgiving dressings, like our famous sausage and cornbread stuffing, where its bold flavor stands up to the sweet bread — and complements the poultry beautifully.
Fennel Bulb & Frond
As we've seen here, lots of herbs have an aniseed aroma or flavor, but fennel is the most licorice-forward of the lot. It's also a bit of a twofer: you can eat the bulb and its gossamer fronds.
In our kitchens, we use the raw bulb in salads, where it adds both bright, fresh flavor and crisp, celery-like texture. It's especially nice in combination with citrus, beets, and goat cheese. We also like how sweet and perfumey it gets when cooked. It's a natural with beans, and it chars up beautifully if you put it in the oven with roasting meats (like this gorgeous rack of lamb).
Its lovely aromatic flavor is wonderful in soups too. We've recently used it in a brothy bowl of clam toasts and a creamier blended soup made with cauliflowers and pears — and in both cases the fronds made a very pretty garnish. Got extra fronds? Use them to make pesto.

Rosemary
Rosemary has a deep, woodsy aroma, a little like pine sap and charred logs, and its flavor is similarly pine-forward and pungent — with a pleasant lemon-pepper finish. It's a powerhouse: strong and super versatile.
It's one of our favorite herbs to use in a simple syrup: try it in everything from an Old Fashioned to a rosemary-tangerine cooler. Similarly, it's great for making compound butter, which you can use on grilled steaks or for basting fish, chicken, or even eggs in a pan. (Speaking of creamy things: baked Brie!) It's also the one we want to lay atop a rustic loaf of focaccia as it's baking.
For all that, it's also wonderful chopped up in things. Minced rosemary, lemon zest, salt, and red pepper flakes make a mighty fine rub for roasted chicken. We also love rosemary in combination with beans, like this amazing chickpea and sausage number.