Sauces & Seasonings Recipes
Pickled Pink Pearl Onions
Home cooks can never have too many pickles in their arsenal — our kitchens are frequently stocked with the likes of pickled tomatoes, asparagus, and grapes. Now, the test kitchen has a must-make pickle for home mixologists: pickled pink pearl onions.
We formulated this recipe with a Gibson martini in mind: the brine is coriander- and fennel-forward, so it has just enough anise-y sweetness and salty kick to vibe with the drink's lemony Beefeater gin and aromatic sweet vermouth. The best part? We put the onions in the oven for a bit to shorten the pickling time, so they're ready to use almost immediately. (But if you can swing it, let the onions sit for a few days: they come out of the jar tender and silky yet satisfyingly crunchy — it's a joy to bite them off the martini skewer.)
Pickled pink pearl onions have uses beyond the Gibson, too: We love plopping a couple in our green michelada mocktail — or a tomatillo Bloody Mary. They're also right at home on a charcuterie board, and we like to chop them up and toss them in rice bowls, salads, and vinaigrettes. Hello, pops of punchy sweetness!

Yield: 1 pint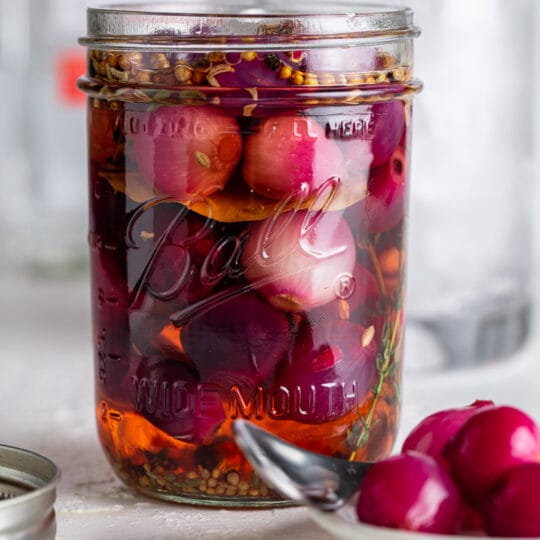 Sauces & Seasonings
Pickled Pink Pearl Onions
Ingredients
¼ tsp Gelson's black peppercorns
1 Gelson's organic bay leaf
¼ cup plus 2 Tbsp white wine vinegar
¼ cup plus 2 Tbsp white balsamic vinegar
Special equipment: 1-pint canning jar
Directions
Preheat the oven to 350º. Place the pearl onions on a rimmed baking sheet and roast until the skins begin to peel away and the onions are tender, 8 to 10 minutes.

Once the onions are cool enough to handle, use a paring knife to trim the ends and then remove the skins.

Place the trimmed, peeled onions in a pint-sized canning jar. Then, add the coriander, fennel, mustard seeds, peppercorns, allspice, cloves, bay leaf, and thyme.

In a small pot, combine the water, vinegars, sugar, and salt. Bring to a boil over high heat, reduce to a simmer, and stir to dissolve the sugar. Remove the pot from the heat and let cool for 10 minutes.

Pour the pickling liquid over the onions and aromatics. Let cool to room temperature, about 1 hour.

Seal the jar tightly and chill in the refrigerator. The pickled pearl onions can be used immediately or stored in the refrigerator for up to 3 weeks.