Ahi Tuna in Lettuce Wraps
September 17, 2018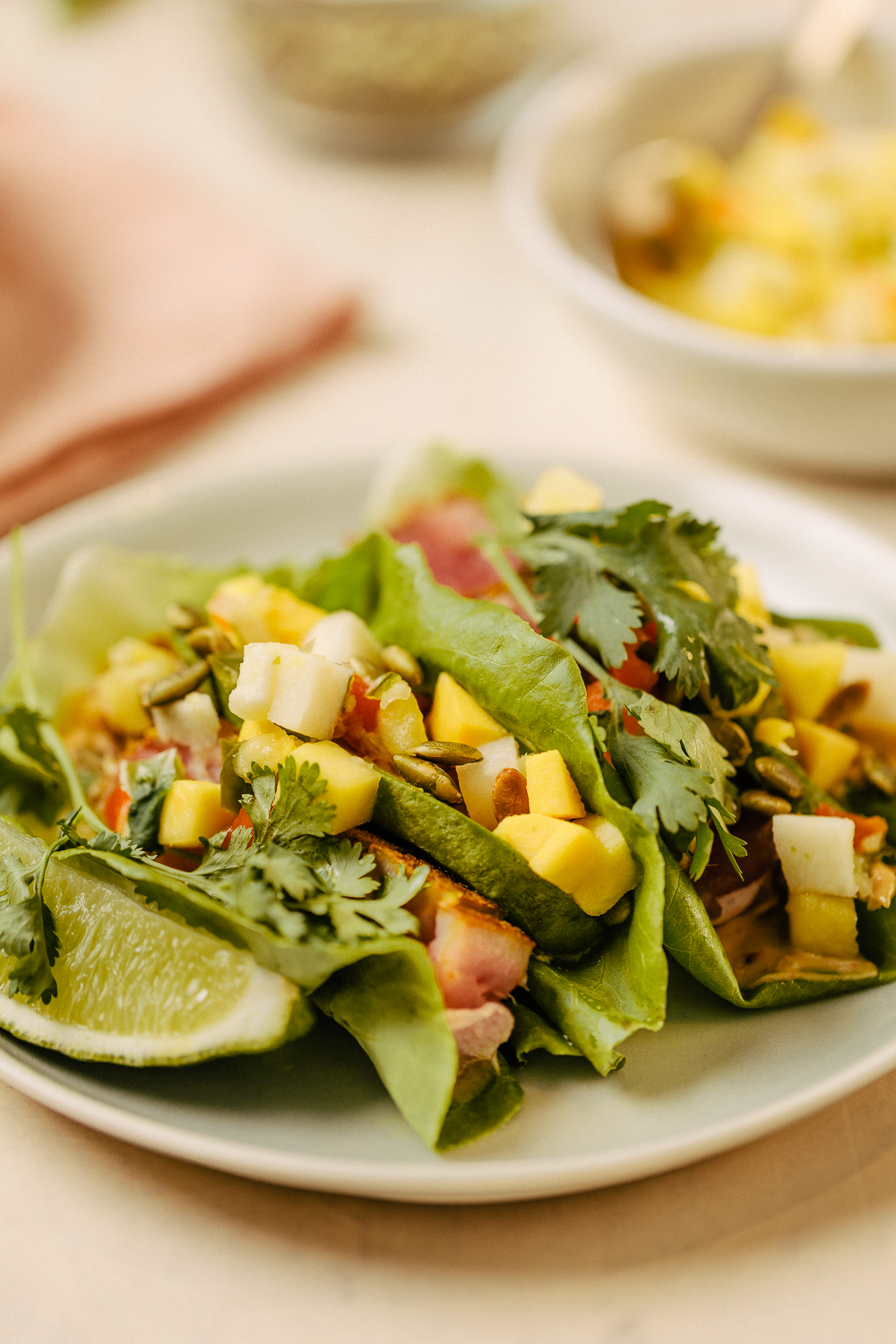 We're obsessed with these super fresh lettuce wraps right now. With the combined heat of the spice-crusted ahi, mango salsa, and chipotle mayo, they have a pleasant kick — and everything's tucked into a crisp ruffle of butter lettuce, a fantastic alternative to tortillas.

These summery wraps are also an antidote to sun-damaged skin, offering ingredients that help keep skin hydrated, supple, and firm. Pair them with our Summer Watermelon and Cucumber Salad for a little extra sun protection (lycopene!) — and a healthy meal.
Servings: 4
Ingredients
½ cup Flanigan Farms pepitas (pumpkin seeds)
1 tsp ground cumin
1 tsp Le Saunier de Camargue fleur de sel sea salt
1 tsp black pepper
½ tsp cayenne pepper
½ tsp ground turmeric
2 8-oz ahi tuna steaks, 1 ¼ to 1 ½ inches thick
1 Tbsp Napa Valley organic olive oil
8 leaves Organic Selects living green butter lettuce, washed and dried
8 tsp Primal Kitchen chipotle lime mayo
½ large ripe, but firm avocado sliced into 8 thin wedges
½ cup Field Fresh mango salsa
16 sprigs cilantro, stems snapped off
4 lime wedges
Directions
Toast the pumpkin seeds in a large nonstick pan over medium heat until puffed up, about three minutes. Set aside to cool.
In a small ramekin, mix together the cumin, salt, pepper, cayenne, and turmeric. Spread seasoning in a flat bottomed dish, like a pie plate.
Press both the tops and bottoms of the tuna steaks into the seasoning to coat well, press any remaining spices into the exposed sides of the steaks.
Put the olive oil in a 10-inch pan and heat to medium. Add the tuna and cook for 1 to 1 ½ minutes (depending on thickness), flip and cook about one more minute. The tuna should still be red in the middle. Remove from pan and let rest for about three minutes.
Slice tuna into 16 pieces, cutting across the grain.
Place the lettuce leaves on a platter and compile the wraps with: 1 teaspoon of chipotle lime mayo, 2 slices of tuna, 1 slice of avocado, 1 tablespoon mango salsa, a sprinkling of pumpkin seeds, two cilantro sprigs, and a squeeze of lime.