Recipes
Quick Meal Ideas for Summer Time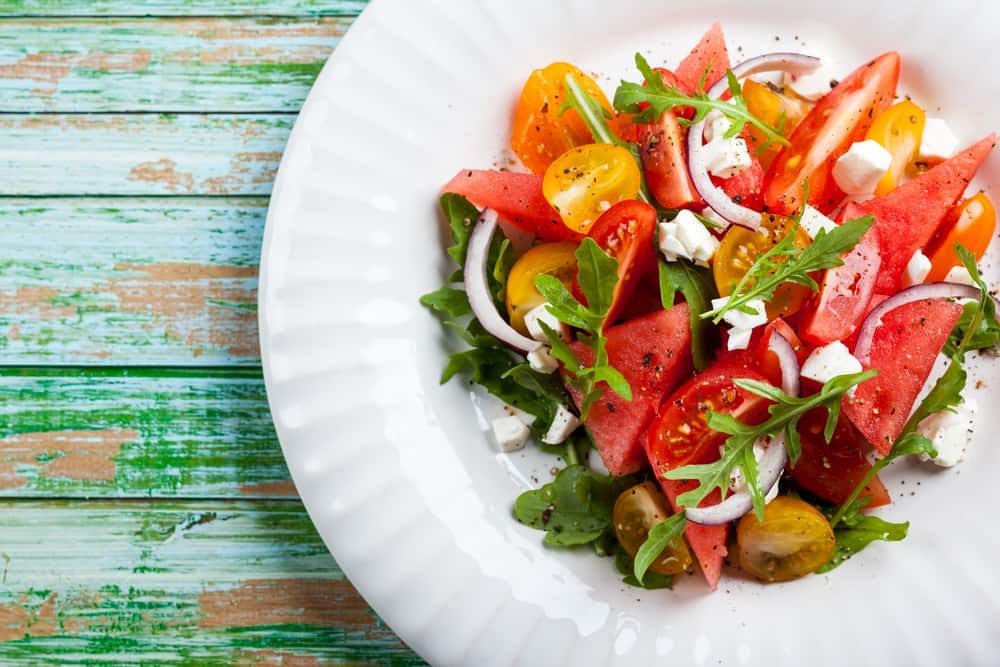 Once the warm nights of summer arrive, nobody wants to spend their evenings preparing complicated dinners. And thanks to the extra hours of sun, the summer season is the perfect time to enjoy more time outdoors with family and friends – not be cooped up in the kitchen.
Whether you're cooking for one, two, or a full house, here are a variety of summer meal ideas that offer plenty of options for quick and delicious dinners all season long.
Apple Cranberry Tuna Salad
Give the standard tuna salad a summertime spin with fresh fruit and a generous serving of dill. This apple cranberry tuna salad combines premium tuna with plain yogurt, dried cranberries, minced onion, dill, and finely diced Fuji apple for a summer lunch or dinner that's fabulously fresh and flavorful. Use it to top your favorite wheat crackers, add it to chopped greens, or scoop it onto a thick slice of sourdough and have a meal ready in minutes.
Melon Prosciutto Skewers
It doesn't get any easier than this no-cook recipe, which you can whip up with just five ingredients and a few free minutes. You'll need a fresh cantaloupe, basil, mozzarella balls, prosciutto, and a quality balsamic glaze, as well as the skewers of your choice. Use a melon baller to make bite-sized portions of cantaloupe, then assemble the skewers with equal portions of each ingredient. Top it all with a light drizzle of glaze, and enjoy the ease of this fantastic finger food.
Penne with Summer Veggies
Why not take advantage of the bountiful summertime harvest by combining pasta with a rainbow of veggies? Prepare your desired serving of penne pasta (or substitute with your favorite type of pasta), then toss it with ricotta, olive oil, garlic, basil, and a medley of grilled or roasted summer vegetables. Virtually any vegetable works well with this dish, though tomatoes, zucchini, and eggplant are especially delicious.
Artichokes with Aioli Dipping Sauce
Artichokes are one of the unofficial vegetables of summer and are one of the many produce items in season during the summertime months. For medium artichokes, you can expect to boil them about 30 minutes, which is the perfect amount of time to whip up a delicious dip. Depending on your mood, you can go with classic garlic aioli or a spicier, chipotle-infused version; whichever one you choose, this satisfying summer meal is a winner.
Summer Rolls
A fun take on the traditional spring roll, summer rolls are a great option for an easy, fresh summer lunch or dinner. You'll need sheets of rice paper, as well as rice vermicelli noodles, shrimp, fish sauce, brown sugar, rice vinegar, and black sesame seeds for the rolls. Each roll will also be packed with fresh herbs and veggies, including julienned carrots, Persian cucumbers, mint, basil, and sliced Napa cabbage. Once you've assembled the rolls, a sweet peanut sauce serves as the perfect complement.
Baked Barbecue Chicken
Barbecue chicken is a staple meal of summer, and this version keeps things sweet and simple. Because you'll be using your oven to cook the chicken, you can avoid sweating it out over a hot grill. Instead, simply season a mix of chicken thighs and breasts with pepper and turmeric, then coat them generously with your favorite barbecue sauce. After baking for just over an hour – during which time you're free to enjoy the summer sun – the chicken will be perfectly caramelized and ready to eat.
Black Cod with Summer Vegetable Tapenade
Of course, you can't skip seafood in the summertime, especially when it's topped with a delicious tapenade made with in-season produce. This recipe uses black cod, searing it for a few minutes on each side for the ultimate in fast preparation. Then, you'll finish off this one-pan meal by tossing a combination of olive oil, garlic, shallots, tomatoes, and zucchini in for a quick sauté. Top off the fish with the vegetable tapenade, and prepare for a symphony of summertime flavor.
Grilled Shrimp with Walnut Pesto
Clocking in at less than 30 minutes of prep and cook time, this grilled shrimp recipe is an excellent option for summer evenings spent outdoors. After cooking your shrimp to perfection on the grill, you'll enhance the flavor with a rich pesto made with walnuts, lemon, basil, parsley, scallions, and olive oil. Serve it with dressed greens, a light pasta salad, or even chargrilled corn on the cob for a complete meal.
Roasted Veggie Buddha Bowl
Need to use up some extra vegetables in your fridge? Whip up a Buddha bowl, which melds roasted veggies with your choice of grain and an easy Greek yogurt dressing. Chickpeas, sweet potatoes, onions, and mushrooms are a tasty combination, but you can also switch it up with veggies like broccoli, Brussels sprouts, squash, or asparagus. Roast everything on a large sheet pan, and while you're waiting, prepare your grains – quinoa, brown rice, and couscous are all great options. Then, it's time to build your bowl and top it with extras like fresh avocado, herbs, and dressings, taking it to the next level of flavor.
Tuscan Bean Dip with Garlic Pita Crisps
Who says that dinner has to be made up of a traditional entrée and sides? There's no time like summer to enjoy what we like to call "snack dinners," which can take on a variety of shapes and forms. Build a satisfying meal from fresh veggies and fruit, gourmet cheese, nuts, and cured meats, then finish it off with a filling dip like this one. This smooth, savory dip combines cannellini beans, sage, and plenty of garlic, then serves it with easy baked pita chips for a delightful crunch.
Shop for All Your Summertime Meals at Gelson's Supermarkets
No matter what plans you have for the summer, you can't go wrong with quick and easy recipes that are as delicious as they are convenient. Whether you're aiming for a light, fresh meal or one that's comfort-food inspired, you can get food on the table in record time – giving you plenty of opportunities to make the most of your summer nights.
At Gelson's Supermarkets, our shelves are always stocked with the quality ingredients you need to make this summer a delicious one. From farm-fresh produce and premium meats and seafood to pantry staples and baked goods, you can easily fill your cart with summer meal must-haves.
And for those sweltering summer nights when you just don't feel like cooking? Grab one of the chef-inspired meals to go from the Gelson's Kitchen. It's as easy as placing an online order for your preferred entrée and sides, selecting a pickup time, and making a quick stop at your neighborhood Gelson's. Then, all you have to do is kick back, relax, and enjoy a delicious meal made just for you.
For more summer meal inspiration browse the Gelson's virtual recipe box, then visit your nearest Gelson's Supermarket for all your summertime grocery shopping needs.