Announcements
Home Cook's Guide to Rosé Wines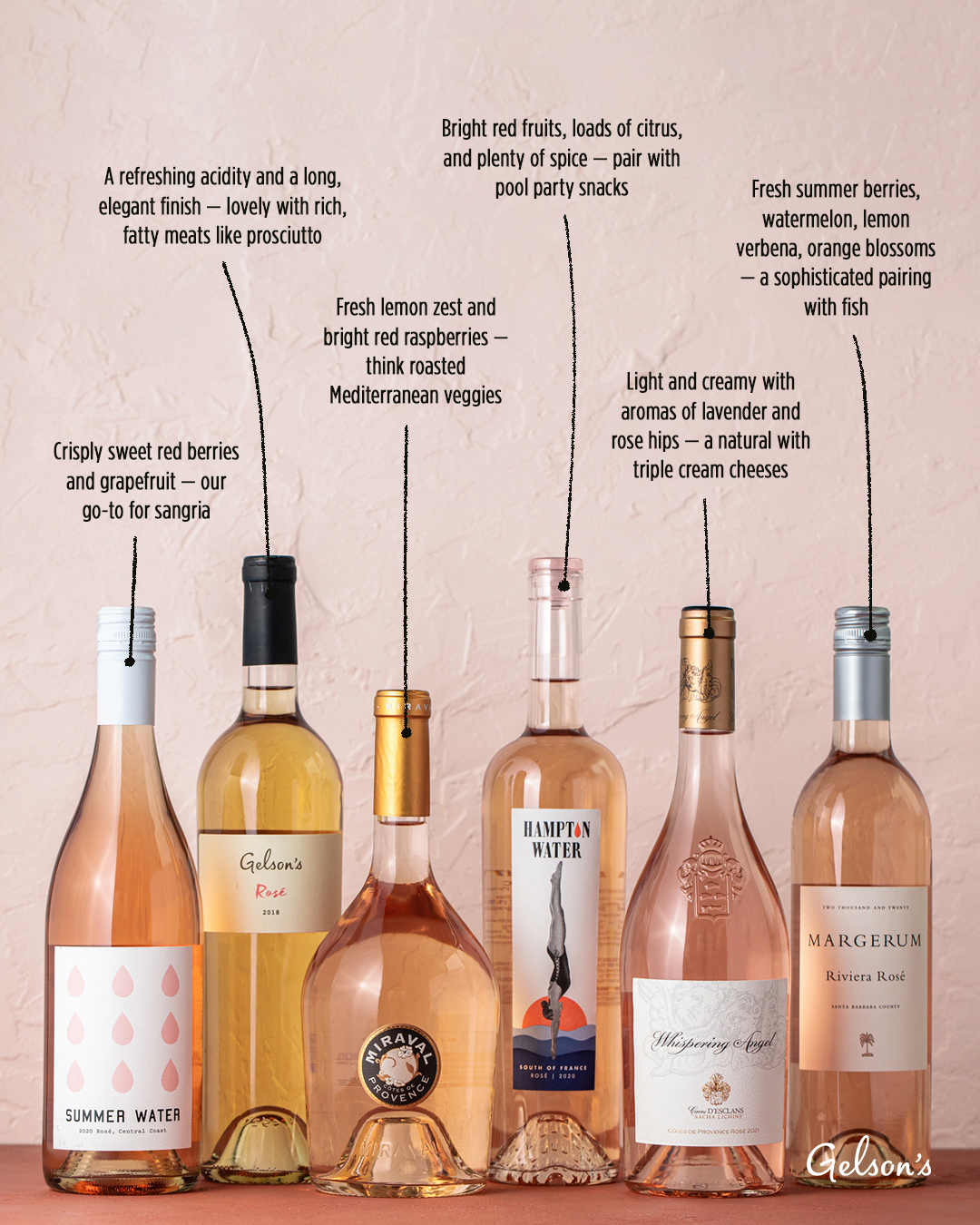 There are a lot of wine enthusiasts at Gelson's — folks who spend their spare hours visiting wineries up and down the California coast and inviting friends over for tastings. Like you, we're always keen for a fresh discovery, to learn something new about a winery we love, and to dig into a varietal or wine style, like rosé.
One of the best ways to get to know any wine is to drink it in a flight so that you can taste it in all its shade and nuance — and figure out what you like. With that journey in mind, Jake Chueng, our Senior Director of Marketing, pulled together this collection of rosé wines.
Aren't they gorgeous? Bright pink, golden blush, dark and plummy, their colors demonstrate a flavor spectrum just as diverse, from crisp and dry to creamy and floral to juicy and full of fruit. Our advice is to invite a few friends over for a patio wine tasting, open a few of them at a time, and compare notes.
Summer Water Rosé
Summer Water rosé is a collab between WINC and the folks who brought us Yes Way Rosé, and the winemakers have gone with a highly drinkable blend of grenache and syrah grapes grown right here on the central coast. The wine blushes deep pink, and though very floral on the nose, it's fruity on the palate and the sweetest of this rather dry flight. That said, we'd still categorize it as light and crisp with a nice, balanced acidity — we tasted lots of strawberries, raspberries, and pink grapefruit.
Summer Water is ideal for happy hours. For pairings, think charred chicken wings coated in barbecue sauce or Gelson's Sriracha shrimp skewers. It will be great with a charcuterie board that favors sharp cheeses, olives, and salami. It likes bold flavors! That said, it's also the one we'd use in a summery sangria, where its fruits will be right at home.
Gelson's Rosé
In a line-up of pretty-in-pink wines, Gelson's rosé takes on a golden hue. Created just for us by French winemaker Julien Fayard, this Provençal-style blend from the Sierra Foothills is made mostly with syrah grapes, but also has a touch of grenache. We love its alpine strawberry and soft red-fruit notes, its dry, refreshing acidity, and its long, elegant finish.
Gelson's rosé is wonderful with the salty, nutty flavors of prosciutto, and we'd serve it with our shaved asparagus and prosciutto salad for a light weekend lunch. We also love it alongside salade Niçoise. The salty olives, the umami-rich anchovies, the spicy radishes, the fatty tuna, the peppery basil — each bite enhances the wine's crisp, fruity nuances.
Miraval Côtes de Provence
One of these wine bottles is not like the others: Miraval Côtes de Provence comes in a quirky bottle that belies the loveliest nose in our lineup — it's full of delicate rose petals. Made with a blend of cinsault, grenache, rolle, and syrah grapes, it tastes very dry and fresh, offering hints of lemon zest and bright red raspberries. Its super-smooth texture and clean finish make it the perfect summer dinner party rosé.
We would serve this wine with grilled veggies — even better if they feature a little fat to balance out this dry beauty. Consider a salad of roasted Mediterranean veggies tossed with orzo and a lemony vinaigrette. We also love it with grilled zucchini ribbons and prosciutto, a lush side that can easily become a light dinner with a few slabs of grilled toast and a shimmering glass of Miraval Côtes de Provence.
Hampton Water Rosé
Hampton Water is an oaked rosé produced in Languedoc-Roussillon with grenache, cinsault, mourvèdre, and syrah grapes. Like many of the wines here, it's quite crisp but, oh, is it lively with bright red fruits, loads of citrus, and plenty of spice. It's very pink, very fruity, and very juicy — a fun easy-drinker. Think pool party with Bon Jovi!
Hampton Water is the rosé we'd serve before dinner, while guests are milling about the patio and pool. We like it with a bowl of homemade potato chips or sweet beet chips, and its vibrant fruits are terrific with a board of creamy French cheeses and charcuterie.
Whispering Angel Chateau D'Esclans
There's a reason Whispering Angel turns up in so many of our rosé and pairing guides — it's one of our house favorites. A Côtes de Provence rosé from the Esclans Valley, it's made with grenache, cinsault, and rolle grapes. It has a soft, rose-petal pink hue, a light, crisp acidity, and a hint of creamy vanilla. We also taste some subtle fruits, but the aromas are all wild flowers: bright, clean lavender and a hint of rosehips.
Our certified cheese professionals® like to pair this wine with rich triple cream brie and lush charcuterie, like prosciutto di parma and Volpi coppa — we love how it cuts through the rich, delectable layers of silky fat. That said, it's one of the more food-friendly wines on our list, and we'd serve it with everything from a brunch-y croissant egg bake to a punchy salmon and avocado rice bowl.
Margerum Riviera Rosé
Fresh summer berries, watermelon, lemon verbena, orange blossoms — Margerum Riviera Rosé tastes like something you'd drink at a Mediterranean seaside resort. Made from Santa Barbara grenache grapes selected specifically for this bottle, as well as syrah, counoise, and mourvèdre, it's just the light and refreshing sip you want on a hot, hot day. And we love the color, an understated ballet-slipper pink as subtle and sophisticated as the wine itself.
Although you can really serve this wine with anything, it's especially lovely with fish, and we recently paired it with a simple dinner ofcrispy salmon and wilted greens. It would also be nice with something a little more involved with bigger flavors, likea bowl of sea bass, white beans, and briny olives.