Announcements
/

/

Its picnic season 10 meal ideas for your picnic basket
It's Picnic Season, 10 Meal Ideas for Your Picnic Basket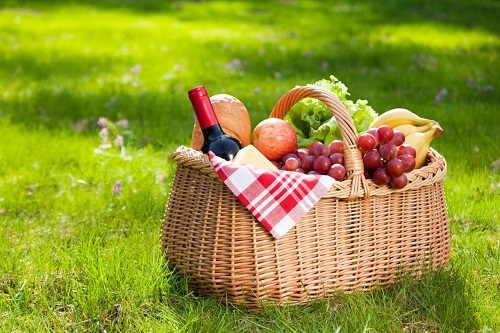 As the weather warms up and the sun comes out to stay, picnics are a wonderful way to make the most of the beautiful spring season. Whether you're planning to surprise your special someone with a romantic date or spend time with family and friends, there's nothing quite like enjoying a delicious meal with a side of fresh air and sunshine. This picnic season, planning the perfect picnic is a breeze with these handy picnic ideas and tips.
What food should I bring on a picnic?
When you're searching for picnic food ideas, keep in mind that the best picnic foods should be convenient to pack and take on the go. Stick with simple, easy-to-make recipes to keep your picnic planning stress-free, keeping the preparation and stress to a minimum. Don't be afraid to choose a few prepared meals from your local gourmet groceries, like sandwiches, salads, and sides.
If you'd rather prepare your picnic meal at home, here are ten simple meal ideas will please picnickers of all ages and won't fall short on flavor:
What should I bring on a romantic picnic?
For a romantic picnic that will sweep your date off their feet, put together an assortment of your special someone's favorite foods. Make it a day all about them, from selecting their favorite dishes to choose a picnic spot you know they'll adore. Add in a surprise, a share-friendly treat from the grocery store bakery and a gorgeous bouquet of flowers to really make an impression.
Ideas for people with special diets
If you or one of your picnic guests has special diet preferences, keep them in mind when putting together your picnic basket. Packing an allergen-free basket (or one that works well for every picnicker's dietary preferences) is a thoughtful way to ensure a good time for all.
Here are a few ideas for accommodating special diets on your picnic outing:
For gluten-free-friendly picnics, sticking with fresh produce, meats, and seafood is a simple way for a foolproof picnic meal. Or, make sandwiches (like chicken salad) using gluten-free bread or lettuce wraps.

Picnic meals are easy to make vegetarian and vegan-friendly. Choose a variety of fresh fruits for a flavorful fruit salad, served alongside crudités with vegan dip and slices of delicious avocado toast.
Wine ideas for picnics
Give your picnic a gourmet touch by packing a bottle or two of your favorite wine, conveniently stored in an easy-pour container. Visit your local specialty grocery's wine bar for help selecting the perfect springtime wine. There, a wine expert can help you choose the right beverage for the occasion, whether you want to sip sangria, indulge in a Moscato, or toast with champagne.
Find your picnic essentials at Gelson's Supermarket
For everything, you need to pack the perfect picnic basket, visit your neighborhood Gelson's. Choose from a wide variety of specialty and organic items, including fresh produce, premium meats and seafood, and more. Here, it's easy to fill your picnic basket with all the flavors of spring, whether you decide to keep things simple with one of our chef-prepared meals or pack something homemade.
Ready to start spring off on the right foot? Choose Gelson's Supermarkets for all your picnic season essentials.