Announcements
Home Cook's Guide to Hot Sauce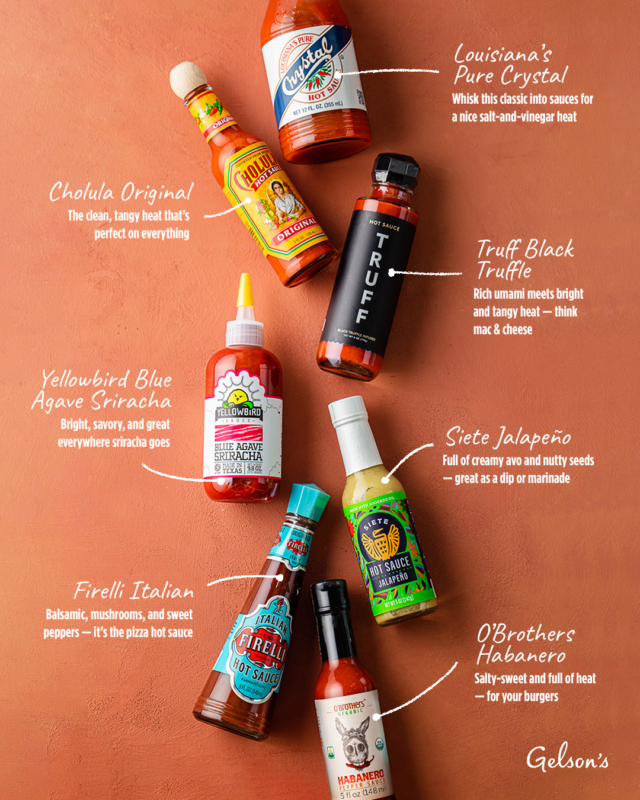 In the test kitchen, "This needs hot sauce!" is a daily refrain — so much so that we've got an entire cupboard and a fair amount of the fridge door dedicated to the stuff. We like it scorching hot or mild mannered and easy. We like it bright and tangy, but we also delight in sweet, green, smoky, and everything in between. We just like it.
Luckily, hot sauce is one of those condiments that lends itself to entrepreneurship and invention. It seems like there are always new hot sauces hitting the market, and it's fun to bring them into the test kitchen and give 'em a shake! That said, we also have our tried and true favorites, the hot sauces we burn through, bottle after bottle, year after year, and never ever get sick of their flavor. (Hey Cholula, looking at you.)
This guide is dedicated to both the spirit of discovery and hard-core hot sauce loyalty. We've added some recipe pairing suggestions, but you don't need us to tell you that if you find one you love, apply it often and widely — that needs hot sauce!
Cholula Original
We always have Cholula on hand. In fact, it lives not in a cupboard but in the center of the table with the pepper grinder and salt cellar. It's named for Cholula, Mexico, which is 2,500 years old and the oldest inhabited city in North America. Apparently, the hot sauce is made with an ancient family recipe that blends the tiny, very hot piquin peppers and milder arbol peppers — both of which are native to Mexico — with a handful of proprietary spices.
What we like about Cholula is its straightforward flavor: It doesn't have the smoke or sweetness you find in some hot sauces, so it's compatible with a lot of foods. It adds a clean, tangy heat wherever you put it — the final bright note that makes many, many things feel complete, from grilled cheese sandwiches to grain bowls. It's also lovely on deviled eggs, absolutely necessary on veggie tacos, and the very heart of a Micheleda cocktail.
Siete Jalapeño
The ingredient list for Siete Jalapeño hot sauce reads like a guide to superfoods: it's got jalapeños, avocado oil, apple cider vinegar, pumpkin seeds, garlic, tomatillos, flaxseeds, Quillaja extract, chia seeds, and turmeric. The jalapeños are roasted, so they're sweet and smoky. The avocado gives the sauce a thicker consistency; the seeds a definitive nuttiness. As James Bond would say, this one is poured, not shaken, over food.
Because this hot sauce is so creamy and flavorful, you can use it for all sorts of things. It's a great salad dressing, and we've used it as a quick go-to marinade for seafood. (Try it on our fruity shrimp and pineapple kebabs.) It's also fantastic on fish tacos and chilaquiles — and, truth be told, as a simple chip dip.
Truff Black Truffle
If you lean on hot sauce to add depth to food, as we often do, Truff Black Truffle is for you. It combines the rich umami of truffles and the satisfying warmth of red chilies with a bright kick of tangy-sweetness — layers of complexity! It's also a slightly thicker sauce so it has a nice presence on food.
We really like how it tastes with creamy foods, especially if there's cheese involved. It's fantastic on a great big breakfast burrito or a slab of avocado toast. And once you've had it on mac and cheese, you'll never go back.
O'Brothers Habanero
Speaking of entrepreneurs, Derek and Craig, the brothers behind O'Brothers Organics, started making hot sauces to complement the organic burgers they were cooking up at their San Antonio, Texas, burger joint. Now, the sauces have a life of their own. The habanero is perfect for the folks who enjoy a really hot sauce but don't need to enter a contest to prove it — meaning, it's hot but not gallon-of-water hot. It's got a wonderful flavor, salty-sweet and full of rich red pepper.
As you might imagine, it's superlative on hamburgers, and we'd use it on both our classic burger and California burger recipes.
Firelli Italian
Hot sauce and pizza = BFFs! Firelli Italian comes to us from Parma, and it's made with Mediterranean ingredients, including Calabrian chilis, roasted red peppers, balsamic vinegar, sea salt, and porcini mushrooms. In terms of heat, it's on the mild side, but between the earthy mushrooms, tangy-sweet balsamic vinegar, and smoky roasted red peppers, it packs a lot of flavor. It's perfect on our Neopolitan-style pizza recipes — or really any dish that combines tomato and cheese. We like how it brings some nice heat to something like an Impossible Burger meatball sub or a classic lasagna without interrupting the flavor profile.
Louisiana's Pure Crystal
If you spend time perusing our recipes, you've probably noticed that we sometimes call for Louisiana-style hot sauce — and when we do, Louisiana's Pure Crystal is exactly what we have in mind. The company was founded in 1923 by Alvin Baumer. According to family lore, Baumer was out of work when he met Mildred Bacher, daughter of a wealthy New Orleans businessman. He talked Mildred's pop into helping him buy a sno-ball syrup production company … where, in a random drawer, he found a forgotten recipe for "Crystal Pure" hot sauce. The company grew, he married the girl — and today, as an Eater profile attests, the hot sauce has a near cult following.
It's made with aged red cayenne peppers, vinegar, and salt, and if you shake it on your morning omelet, you can taste all those things — especially the vinegar. It's got a nice subtle kick, too. Chefs like it because it's so simple that you can layer it into foods without, as we've noted above, really rocking the profile of your dish. We like the salt and sunny heat it brings to sandwiches, like shrimp po' boys and our breaded pork Iowa Skinny. It also whisks into saucy stuff really well, so it's great in a Cajun-style shrimp and andouille pasta.
Yellowbird Blue Agave Sriracha
This one also hails from Texas — Austin to be precise. It's made by Erin and George, a convivial couple, if the photos tell a true story, with a shared entrepreneurial spirit. One brings the peppers; the other a self-taught way with sauces. It's working for them: The agave sriracha has a terrific flavor. In addition to the agave syrup, it's made with dates, garlic, and jalapeños, so it's lightly sweet, bright, savory, and peppery. In short, just what you'd expect from a sriracha-style hot sauce.
We'd use this one everywhere we'd use Sriracha, which is everywhere. It's great on veggies, and we love it on a pile of honey-glazed sweet potatoes. It's also pretty swell on a rice bowl: try it with our salmon or tofu bowl recipes.